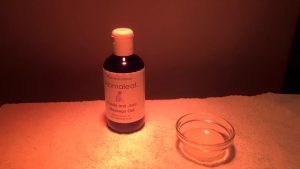 When I was starting to train in Sports and Remedial Massage Therapy I undertook a day-long taster training session with renowned local Clinical Sports and Remedial Therapist and Personal Trainer/Coach David Jackson.
Back in 2002, David had become frustrated with the lack of a specialist massage medium for Sports Massage, and he developed his own product, Albmaleaf.
It is designed not only to have the ideal characteristics for giving a treatment, with the right degree of slide but also grip, but the combination of essential oils means it carries on working after the treatment has finished. Indeed testimonials on David's website shows customers use it on themselves to reduce muscle and joint pain for this reason.
I tried Albmaleaf along with other products during my training, and have used it almost exclusively since I started professional practice. It is locally made, by hand, is hypoallergenic and natural, being virtually entirely organic. From my point of view it is the best product I have come across for use in routine treatments. And I believe that part of the reason I get good results from those treatments is down to the ongoing benefits after the treatment ends, provided by this mix of oils.
In 2017 I was given the chance to trial another product for the Federation of Holistic Therapists. I do now sometimes use Premax Sport especially for my sports treatments, and will give you a choice between the two, but generally I still turn to Albmaleaf for its all-round qualities.
FAQs 4 – What oil is used in treatments?