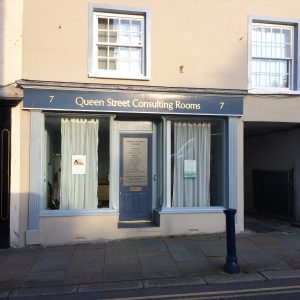 Queen Street Consulting Rooms is a beautifully restored, listed Georgian building in the heart of Ulverston where a number of therapists offer a variety of treatments aiming to promote excellence in health.
All the practitioners working from Queen Street Consulting Rooms run their own practices. They are motivated and experienced, and have joined together with a vision of promoting health and well-being in a supportive and caring environment. Everyone working from Queen Street Consulting Rooms is fully qualified and insured, and is committed to ongoing training and development. All are registered with their appropriate governing bodies.
Everybody visiting Queen Street Consulting Rooms can be confident that their appointment will be completely confidential, but, if the practitioner feels that other expertise is needed, with the client's permission it is possible to refer within the building to another speciality. We all have complete respect for each other and, where appropriate, work together for the good of our clients. We also have excellent links and support from the local medical profession and if needs be referrals for tests, treatment and advice can be made very quickly.
A ground floor treatment room is available. The other treatment rooms are on the first floor. Please could you advise us when making an appointment if you need the ground floor room for mobility reasons.
To discuss treatment options and to book appointments either call in and see one of our friendly receptionists or ring 01229 586000 – reception is open weekday mornings although therapists work throughout the day and into the evenings. When reception is not open, please leave a message and someone will get back to you as soon as possible.
If you arrive for a treatment and no receptionist is on duty, just wait in the reception area and you will be called for your treatment.